Discussion Starter
•
#1
•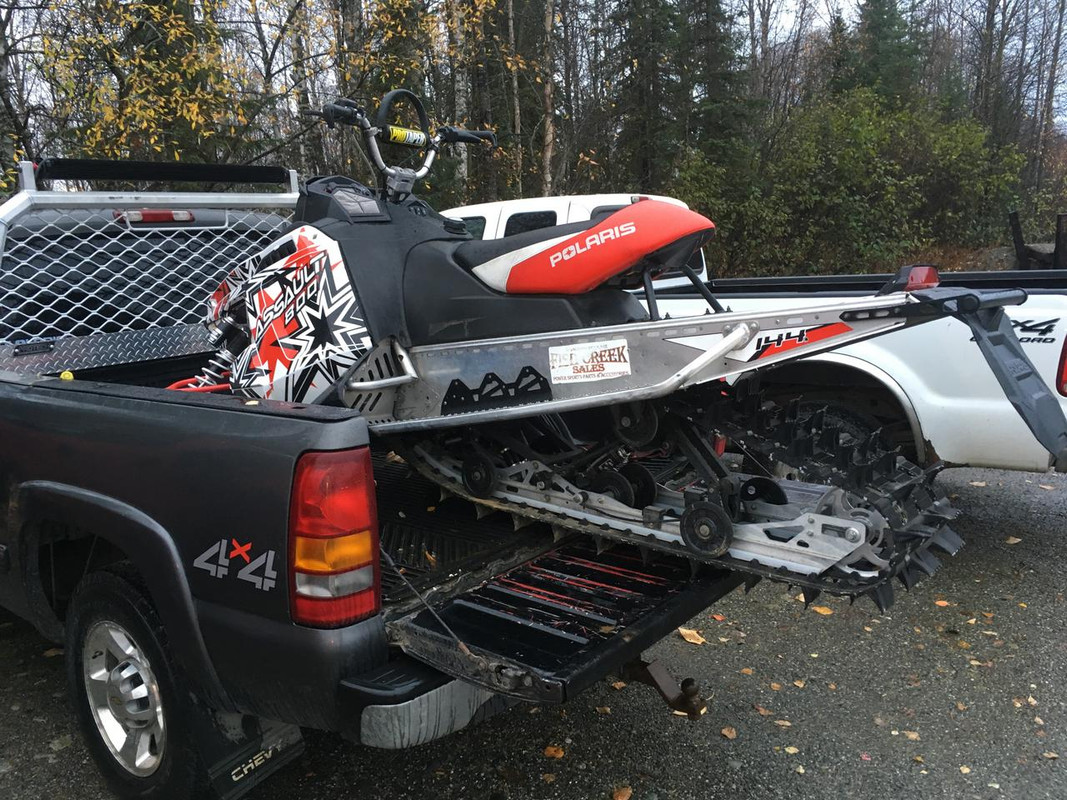 So I picked up yet another project, this time a 2012 Switchback Assault 800. The engine is blown, one piston dropped a skirt and broke off the cylinder skirt, which the crankshaft used to punch a very large hole in the crankcases. Usually I'll have these welded up, but this one suffered some pretty severe damage and I want to upgrade anyway.
I've had many different Pro Ride sleds, but I've always wanted to build a special Switchback Assault with a few custom touches, basically the machine I thought Polaris should've built. This machine is pretty much stock with the exception of Ice Age tails and a 146" Series 5.1 2.4" track. It also came with Sly Dog skis, which promptly got thrown in the trash and a set of new take off Gripper skis mounted up.
Since the original engine is not worth saving, I'm starting off fresh with a better setup - 2013 crankcases and cylinder, for better strength in the skirt area. The heart of this build will also be an Axys 800 porkchop crankshaft to give it more punch and quicker revs. SPI pistons with the oil grooves for better lubrication. I'll be replacing the injectors and everything else will remain stock.
The chassis is in pretty good shape and the track setup is perfect for the type of riding I do and the wide range of conditions in my area, and was one of the big attractions for me purchasing this particular sled, as I wanted a little more than a 2" paddle. I have a wrecked 2015 Terrain Dominator chassis I have been saving, which has a good Quickdrive backing plate that will be transferred over to this sled, as well as all the necessary parts to complete the Quickdrive conversion, some of which actually showed up today. Conversion parts include Pro RMK aluminum driveshaft (machine already has standard RMK driveshaft due to the 2.86 pitch on the 146" track), Quickdrive specific jackshaft, upper and lower sprockets, new Quickdrive belt, all new hardware for sprockets, and the correct brake caliper and brake line.
This will be somewhat of a slow process since the person I have weld my crankcases is out of state until the end of the month, but I'll be hopefully working on the chassis in the meantime. I may just strip it down and pressure wash it because it was sitting outside for a few years and is pretty dirty.
Also, the stock side panels and hood are beat up badly. Long cracks and large chunks of plastic missing, so I'm experimenting with the leftover Terrain Dominator side panels and hood on here as a replacement set. So far reception has been good, the colors match very well and are less headache inducing than the stock 2012 graphics. I think the red and white on the seat, ski hoops, springs, and A-arms really work well to bring the package together. I think I'll stick with these panels and hood even though I know I'll get a ton of grief because it still says PRO RMK on the side. Oh well, at least the price is right! I've also changed out the rear bumper to an all black unit to match the SBA style front bumper.