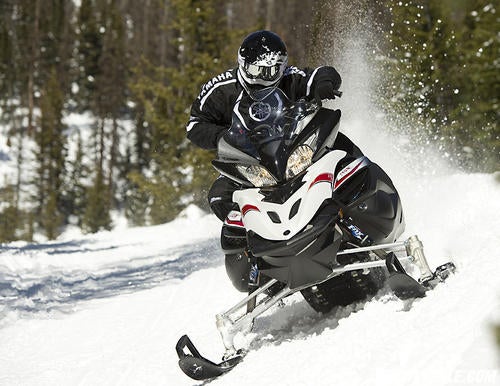 Model year 2013 marks the beginning of Yamaha's second decade with four-stroke engines powering its line of snowmobiles.
For 2013 Yamaha seeks to bring in new riders. Earlier. Enter the all-new 2013 Yamaha SRX 120, a nifty Yamaha blue kid-sized sled. Powered by a diminutive 123cc Yamaha four-stroke motor (of course!), the SRX 120 gives Yamaha a family presence at its dealerships and revives a famed model name in SRX.
If the SRX 120 seems a bit familiar, it should. The product is a joint effort between Yamaha the engine supplier and Arctic Cat the chassis supplier. Since Yamaha was supplying Cat with the 123cc engines, why not sell more of the 120cc singles by offering a youth sled under the Yamaha banner?
More:
2013 Yamaha Snowmobile Lineup Unveiled
on Snowmobile.com