» Welcome to HardcoreSledder.com: The #1 Snowmobile Forum
Welcome to HardcoreSledder.com - we offer Snowmobile Forums dedicated to the enthusiast. We have many features on this website to make your experience here more enjoyable. The first step would be to REGISTER for free so you can take advantage of all the features we have to offer.
» Featured Snowmobiles
» Snowmobile Articles
2016 Polaris Snowmobile Lineup Preview
When Polaris unveiled its 2016 800 Pro-RMK in West Yellowstone at the end of January, you knew something was up. Polaris didnÂ't get to be a US$3.8 billion company without careful planning, where eve...
2016 Arctic Cat Snowmobile Lineup Preview
Based on what we saw last season with the new-for-2015 Pantera 7000, Arctic Cat has, indeed, attacked the utility segment with one of the most solid line-ups of versatile and utilitarian sleds weÂ've...
2016 Yamaha Snowmobile Lineup Preview
Yamaha remains steadfast in delivering quality-built products. The care and concern for improving the ride experience is paramount to creating a bond between longtime, faithful Yamaha riders and Yamah...
2015 Mountain Snowmobile Shootout: Part 2
In Part 1 of our annual deep snow shootout of the top 2015 mountain-specific snowmobiles, we introduced you to the 2015 Polaris 800 Pro-RMK 162, Arctic Cat M8000 Sno Pro 162, and Ski-Doo Summit X T3 8...
2016 Ski-Doo Lineup Preview
For model year 2016 Ski-Doo brings back the popular Blizzard name, creates a new Enduro package for the Renegade series, makes T3 package refinements across its best-selling Summit models and re-invig...
2015 Mountain Snowmobile Shootout: Part 1
In what has become an annual tradition, after a season of riding the year's top mountain snowmobiles, we spent two weekends obsessively comparing the 2015 Polaris Pro-RMK 162, Arctic Cat M8000 Sno Pro...
Now & Then: Yamaha's Historic Fours
We never doubt YamahaÂ's engineering prowess when it comes to concocting exceptional performance engines. Snowmobiling history abounds with tales of how in 1971 a small Team Yamaha 433cc twin powered...
2015 Ski-Doo Renegade Backcountry 800 Review + Video
Sometimes we all have to do it; that is go fast, go long and go exploring like Lewis and Clarke. The mountain team at Snowmobile.com enjoys the opportunity to burn down the barn on a wide-stance trai...
Snowmobile Touring With Your Kids
Mar 24, 2015 - 12:20 PM - by Snowmobile.com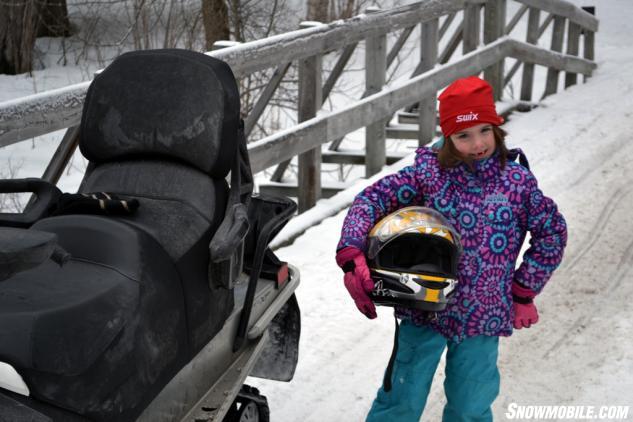 Quote:

As a father to two young daughters, it feels like I've been waiting forever to introduce them to many of the things I like to do. I had a chance to check one of those things off my list recently when I took my oldest daughter, Maya, snowmobiling for the first time near Huntsville, Ontario. I'm not sure who enjoyed the experience more.

Beyond just zipping around on a sled, I really wanted to make this a special experience for both of us, so I decided to build a whole weekend getaway around the snowmobile ride. My first call was to Dudley Hookong at Back Country Tours, who arranged a two-up snowmobile and a guide for a 2.5-hour tour of the area trails. When I told him we were planning to stay the night, Dudley suggested I call Hidden Valley Resort, which is just a short drive from Back Country Tours' Dwight location.

Read more about the Snowmobile Touring With Your Kids at Snowmobile.com.
0 Replies | 475 Views
» Recent Discussions

Rating

Title, Username, & Date
Last Post
Replies
Views
7000 or 5000

Today

07:46 PM

by

teamgreen711

15

380

How to prep your Klim...

Today

07:46 PM

by

jasonb88

11

5,423

Crazy Keith

Today

07:45 PM

by

catgirl

76

4,363

Do you have a flashlight...

Today

07:44 PM

by

D-rail

13

343

SPI piston ring question

Today

07:44 PM

by

patrioticinnovations

2

34

Passing on the left into...

Today

07:44 PM

by

widgget

1

61

Shcra race at treetops...

Today

07:44 PM

by

Thunderstorm

47

2,975

Oh Sh&^ Houston we have...

Today

07:41 PM

by

fastsleddr

60

3,570

2015 Backlake Shootout

Today

07:39 PM

by

Boosted turbo

127

8,254

North Shore updates...

Today

07:38 PM

by

D-rail

1,881

121,942

After market cans...

Today

07:38 PM

by

fastsleddr

2

83

2016 Ski Doo Snow Check

Today

07:38 PM

by

S.R. Ewaschuk

5

418

Antigonish RWYB Sunday...

Today

07:37 PM

by

joker

81

4,770

Ordered 2016 Limited 6000

Today

07:36 PM

by

jrhz06

1

32

2015 8000 Day at the...

Today

07:35 PM

by

fastsleddr

46

1,324

duraflex ice scratchers

Today

07:35 PM

by

teamgreen711

52

2,734

Update on the 747 Pro...

Today

07:34 PM

by

patrioticinnovations

93

4,651

Togus scream

Today

07:31 PM

by

mutantboy699

43

2,072

Shameless plug for SLP

Today

07:30 PM

by

snappydave

7

293

Rumor Mill Polaris...

Today

07:29 PM

by

patrioticinnovations

41

1,582
» Snowmobile Services
» Stats
Members: 116,861
Threads: 668,548
Posts: 7,461,863
Top Poster: Capt.Storm (61,083)

Welcome to our newest member, fam5