» Welcome to HardcoreSledder.com: The #1 Snowmobile Forum
Welcome to HardcoreSledder.com - we offer Snowmobile Forums dedicated to the enthusiast. We have many features on this website to make your experience here more enjoyable. The first step would be to REGISTER for free so you can take advantage of all the features we have to offer.
» Featured Snowmobiles
» Snowmobile Articles
2016 Yamaha Apex X-TX Review
Yamaha Apex owners know a huge secret. One that just got better for model year 2016.  YamahaÂ's 2016 Apex X-TX models are the best power cruisers on the snow. Start with the exceptionally smoot...
Schulz Wins 53rd World Championship Snowmobile Derby + Video
Every other snowmobile oval track pales before Eagle River, Wis., where the 53rd World Championship Snowmobile Deby brought the best snowmobile racers from across the Northern US and Canada. Twelve ra...
Reinventing the Yellowstone Special
Okay, okay, okay... I probably enjoyed too much egg nog over the recent holidays, or at least had too much free time. Either way I've had a vision, purely conjectural, about an entirely new and innova...
2016 Affordable Trail Sportster Comparison
We're not sure if eight thousand bucks qualifies as "low buck" or not, but that is today's reality when it comes to buying a fun to ride but basic liquid-cooled sport sled. You can spend less ...
The Essential 10 of Backcountry Gear
The backcountry is quite possibly the most adventurous place to ride a snowmobile. Unlike riding trails there are few restrictions in the backcountry. You can go virtually anywhere, over any terrain y...
2016 Ski-Doo Expedition LE 900 ACE Review
We doubt that any existing snowmobile manufacturer fills niches better than Ski-Doo. This is the company that created recreational snowmobiling back in the late 1950s and has continued to be a market ...
Sled Shop Gear: Snowmobile Lift
Okay, I've moved my vintage sled project from the "shop" that's one hundred miles away down to my lakeside barn, which is a hundred feet or so from my house. That was phase one. Of course, Pha...
2016 Polaris 550 Indy LXT Review
Talk about niche marketing, Polaris uses its Indy series to slice razor thin differences in the recreational/utility line. Check out the 2016 Indy line. YouÂ'll find the ubiquitous 550cc fan-cooled t...
Time for Snowmobilers to Make Amends with Mother Nature
Mar 29, 2016 - 11:17 AM - by Snowmobile.com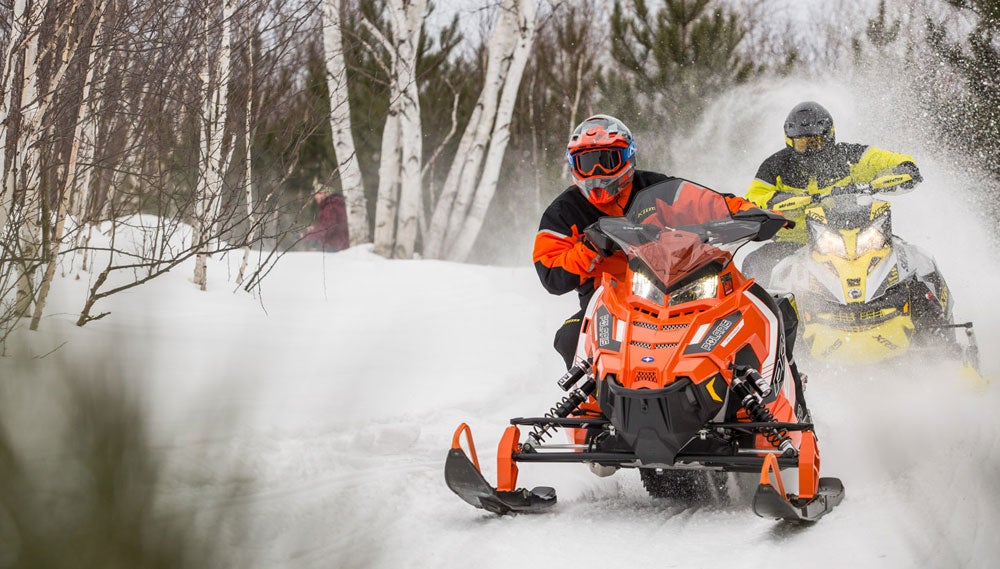 Quote:

For many of us here in Ontario, March is that one month of the year that we all have mixed feelings about. For many, it feels like the end of the era. The end of snowmobile season is like saying goodbye to a cherished friend, and the act of storing a snowmobile for the summer season is a somber one. The countdown clock restarts, and the summer is quickly booked with activities to keep our mind off of what we truly want to think about; next winter.

This year felt a little different, though. With the poor winter season in Ontario, disgruntled die-hard sled heads were a bit put off by the winter weather, or lack thereof. While some were able to get out riding on OFSC trails and also off-trail, others were barely able to break in their new sleds. The varying temperatures and conditions were enough to drive many of us crazy. There wasn't enough snow to snowmobile too far or too often, and yet it was too cold to ride motorcycles. So, what is an Ontario sledder to do? The conundrum this year got real. Like really real. Us Ontarians had to reach deep inside ourselves to pull out an inner strength while Mother Nature toyed with our emotions. Every time the weather network announced a winter warning, we excitedly prepared only to be disappointed time and time again.

Of course there were periods of time that Ontario had snow to play in. The further north you traveled, the better the trails and conditions. My Northern friends made sure to post lots of pictures to remind us southern Ontarians what we were missing. Fortunately, I made it up to Huntsville area for a mid-winter trip with the folks from Backcountry Tours, and also made it out west for an epic snowmobile adventure with She Shreds Mountain Adventures in Pemberton, BC. The ultimate end of winter trip was scheduled for early-March in Wawa, as they had the best powder in the province this year. Of course, given my luck, conditions quickly declined the week before our trip, so we made the decision to reschedule for next season. Looks like I'll have to wait another year to discover the top secret boondocking location. Something tells me this will be worth the wait!

Read more about the Time for Snowmobilers to Make Amends with Mother Nature at Snowmobile.com.
0 Replies | 490 Views
» Recent Discussions

Rating

Title, Username, & Date
Last Post
Replies
Views
Baby Backs or St Louis...

Today

08:33 AM

by

Tommcat

60

981

Best option to revalve...

Today

08:26 AM

by

too slow

2

43

Most annoying...

Today

08:17 AM

by

too slow

4

161

Running power lines in...

Today

08:16 AM

by

dodger

17

577

16 HP straight-line...

Today

08:03 AM

by

SouthernTierSwitchback

130

13,541

3 or 4 place

Today

07:56 AM

by

raypa

0

5

Haydays 2016!!!

Today

07:55 AM

by

grim reaper

66

1,646

Team arctic racers win...

Today

07:22 AM

by

BTP

80

1,438

New Yamaha motor

Today

07:10 AM

by

BTP

57

4,343

Camera

Today

06:54 AM

by

doug w

42

728

Do you have any good...

Today

05:48 AM

by

Linus303

0

25

Long summer...

Today

04:51 AM

by

xctweeker

6

509

ATV topic

Today

02:57 AM

by

Hotdogger8

155

19,307

Days to Go 2016

Today

02:01 AM

by

mod 9nh

110

3,728

Sleddin videos, post em...

Today

01:53 AM

by

ippielb

435

65,467

Quill hill toll booth

Today

01:05 AM

by

iambigfattony

3

133

motor mount 00 xcr 800

Today

01:01 AM

by

00xcr

30

1,153

What did you do to your...

Today

01:00 AM

by

FreezerBurnt

15

278

What did you do to your...

Today

12:38 AM

by

Hartman-52

3

130

Can I trickle charge...

Today

12:28 AM

by

flyinghigh

6

246
» Snowmobile Services
» Stats
Members: 123,354
Threads: 682,928
Posts: 7,523,373
Top Poster: Capt.Storm (61,121)

Welcome to our newest member, Linus303