» Welcome to HardcoreSledder.com: The #1 Snowmobile Forum
Welcome to HardcoreSledder.com - we offer Snowmobile Forums dedicated to the enthusiast. We have many features on this website to make your experience here more enjoyable. The first step would be to REGISTER for free so you can take advantage of all the features we have to offer.
» Featured Snowmobiles
» Snowmobile Articles
2016 Yamaha Apex X-TX Review
Yamaha Apex owners know a huge secret. One that just got better for model year 2016.  Yamaha¬ís 2016 Apex X-TX models are the best power cruisers on the snow. Start with the exceptionally smoot...
Schulz Wins 53rd World Championship Snowmobile Derby + Video
Every other snowmobile oval track pales before Eagle River, Wis., where the 53rd World Championship Snowmobile Deby brought the best snowmobile racers from across the Northern US and Canada. Twelve ra...
Reinventing the Yellowstone Special
Okay, okay, okay... I probably enjoyed too much egg nog over the recent holidays, or at least had too much free time. Either way I've had a vision, purely conjectural, about an entirely new and innova...
2016 Affordable Trail Sportster Comparison
We¬íre not sure if eight thousand bucks qualifies as ¬ďlow buck¬Ē or not, but that is today¬ís reality when it comes to buying a fun to ride but basic liquid-cooled sport sled. You can spend less ...
The Essential 10 of Backcountry Gear
The backcountry is quite possibly the most adventurous place to ride a snowmobile. Unlike riding trails there are few restrictions in the backcountry. You can go virtually anywhere, over any terrain y...
2016 Ski-Doo Expedition LE 900 ACE Review
We doubt that any existing snowmobile manufacturer fills niches better than Ski-Doo. This is the company that created recreational snowmobiling back in the late 1950s and has continued to be a market ...
Sled Shop Gear: Snowmobile Lift
Okay, I¬íve moved my vintage sled project from the ¬ďshop¬Ē that¬ís one hundred miles away down to my lakeside barn, which is a hundred feet or so from my house. That was phase one. Of course, Pha...
2016 Polaris 550 Indy LXT Review
Talk about niche marketing, Polaris uses its Indy series to slice razor thin differences in the recreational/utility line. Check out the 2016 Indy line. You'll find the ubiquitous 550cc fan-cooled t...
El Nino Got You Down? Visit the Northern Corridor in Ontario
Jan 29, 2016 - 2:41 PM - by Snowmobile.com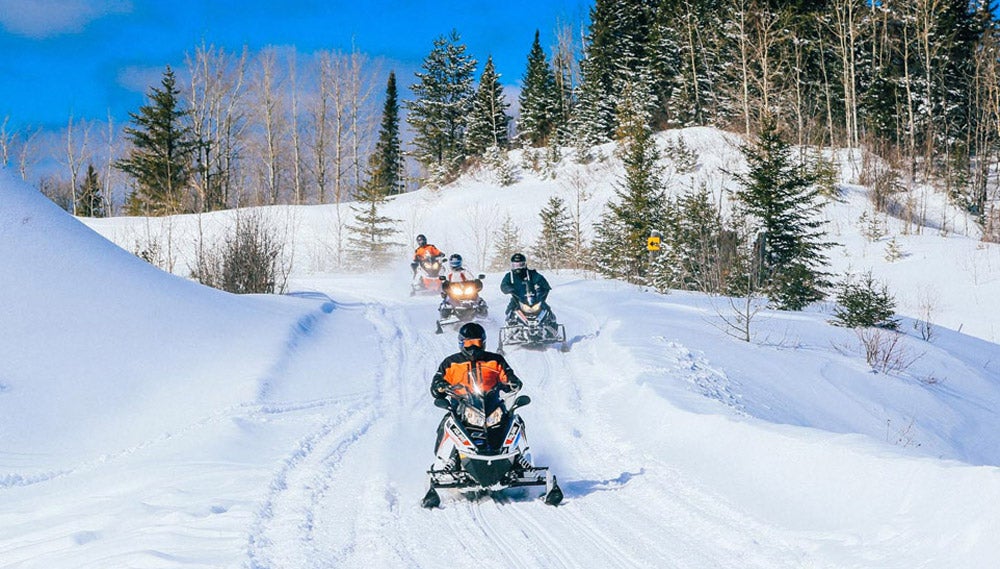 Quote:

Letís face it; predictions of another year of polar vortex have fallen flat on their face. The Quebec snowmobile association isnít showing much open, and the parts that are open have limited availability. Rain and warm temps are keeping much of the southern part of Ontario closed, with a few dribs and drabs open north of the Soo and Algonquin Park. And the word from the Michigan trails is that even with the snow they got, warm temps are messing everything up again.

So whatís a diehard sledder to do? Complain about it on snowmobile forums? Trade the Ski-Doo for a motorcycle? Take up jogging?

Absolutely not. Thereís one place that regularly gets tons of snow, deep cold and miles and miles of perfectly groomed and wide trails, along with some decent backcountry options.

Itís called the Northern Corridor and itís renowned within Ontario, Canada as the first and last place to have trails open in a province known for sledding. Last year its trails were open on December 16<sup>th</sup> (a few short days after the Sault Trailblazers got theirs open) and they didnít close until late April Ė maybe even May. Itís that cold up there.

Just a few short days ago the Northern Corridor opened its first tour loop, the Gateway to the North and as of the writing of this article, 75% of the system is open. If you wanted to ride for five days straight, you could easily do it. Take that El Nino!

For all those sledders out there getting cabin fever, this is exactly what the doctor ordered. If youíre heading up from southern Ontario, you probably have your favorite place to stay inCochrane or Smooth Rock Falls. Cochrane is a pure sledding town Ė so if you need parts you can generally get sorted out here. As with all of Northern Ontario, there is plenty of parking all over the place for big trucks hauling trailers full of sleds.

Plenty of riders link up with Bill Froud at Extreme Tours Cochrane to take them to do some backcountry riding in the legendary Abitibi Canyon or the powerlines north of Smooth Rock. You can also go for the hardcore adventure and ride all the way to the Arctic ocean. Bill runs the only gas station on the Abitibi Loop, so youíll definitely run into him if youíre sledding this side of the Corridor.

Further west youíll find the Francophone communities of Kapuskasing and Hearst (for you English kids, donít worry Ė everyone speaks English too.) These lumber towns have some decent sized loops as well (165 and 145 kilometers respectively) Ė you could literally do a new loop every day in the Corridor. Or, for the incredibly adventurous, you could do the mammothNorthern Adventure Loop Ė at 1645km (or 1000 miles!) of uninterrupted trail riding, with a little extra gas, you could snowmobile for five days straight.

Read more about El Nino Got You Down? Visit the Northern Corridor in Ontario at Snowmobile.com.
0 Replies | 174 Views
» Snowmobile Services
» Stats
Members: 122,201
Threads: 677,627
Posts: 7,450,659
Top Poster: Capt.Storm (61,121)

Welcome to our newest member, dschiavo